Track: Ae Fond Kiss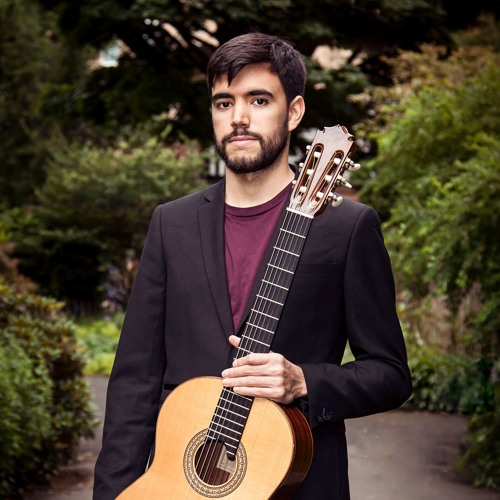 Roberto Hernan Kuhn Versluys is a recent graduate of the Master of Performance at the Royal Conservatoire of Scotland, studying under the tutelage of Matthew McAllister. Previously he had completed a bachelor in both classical guitar and composition at the Pontifical Catholic University of Chile.
His work as a soloist and as a chamber musician has brought him to different parts of the world including Mexico, Peru, Bolivia, Colombia, Spain, France, Germany, Ireland, England and Scotland. Roberto is currently the administrator for the Guitar and Harp department of the Royal Conservatoire of Scotland. Recently he has become co-director of the Royal Conservatoire of Scotland Guitar Orchestra working with more than twenty five students from different parts of the country.

The year 2013 Roberto Kuhn was given the Outstanding performer award by the Pontifical Catholic University of Chile, covering all tuition fees. The year 2015 he was awarded a scholarship by the Royal Conservatoire of Scotland to do his masters program, and that same year he was awarded another scholarship by the Ibanez-Atkinson foundation.
About the song I arranged: Ae Fond Kiss was one of the first Scottish pieces I ever heard and I fell completely in love with Scottish Traditional music ever since. Having the chance to arrange this piece felt like an incredible opportunity that pushed me to think outside the box whilst paying homage to the haunting words by Robert Burns. 

Merging Musical Roots: The piece is written in 3/4 which reminded me of typical folk rhythms from Chile, in particular the Tonada which is a slower and more reflective version of it's counterpart la Cueca: The national dance of our country. I tried to imagine how I could start with an unaltered version of Ae Fond Kiss and slowly transform it into both a Tonada and a Cueca whilst keeping the core characteristics of the piece intact. This proved incredibly challenging but entertaining all the same, and whilst making the variations I understood that each one had to have a unique character and relationship with the song. The finale brings all of these ideas together in a free flowing manner to culminate the piece and it allows me to explore some rhythmic ideas that deviated from the original piece and the traditional rhythms from Chile. 
I also added some harmonic elements of Chilean traditional music into the arrangement, particularly in the Cueca variation and the finale. The use of movable chord shapes in the guitar was first used by Violeta Parra which is as iconic to Chileans as Robert Burns is to Scottish people. These elements blended incredibly well with the already intriguing and beautiful chord progression of Ae Fond Kiss and made me wonder what would have happened if Violeta Parra ever had a chance to hear and integrate the unique sounds that can be found in Scottish traditional music.